Why Industries Automate
Automation as a concept touches on a variety of topics – greater use of machines, higher quality, and increased productivity, to name just a few. Among the best definitions of the term is this from techopedia.com: "Automation is the creation of technology and its application in order to control and monitor the production and delivery of various goods and services."
No matter how it's defined, one thing is certain: Automation as a practical force has been a game changer for the world of work and commerce. Across the board in industries ranging from manufacturing to transportation to food processing, automation is helping companies provide goods and services better, faster, and more cost effectively than ever. "It can be safely said that countries that have embraced automation enjoy a higher standard of living than those that have not," states controls and automation expert Frank Lamb.
Automation and Professional Services Organizations
Despite automation's clear advantages, some professional services organizations (PSOs) have been slow putting it to work in their operations. A recent survey of IT professionals by helpsystems.com found that less than half – 43 percent – had automation projects listed on their calendars. This means nearly 60 percent of those surveyed did not appreciate the benefits automation could bring to their organizations.
Why have PSOs lagged behind the automation curve? One reason is time. Automation projects do take time to execute – something that cuts into billable hours, the lifeblood of professional services. Another roadblock is cost. Implementing an automated system means an upfront investment with no guarantee of immediate payback (see "Automation in the Service Industry" by Amber Keefer). Then, there are the added expenses of system maintenance (unless you purchase a cloud based system) and employee training in system operations.
Time and cost aside, some PSOs are skeptical of automation. Others fear it. Nearly every definition of automation refers to reducing or replacing human involvement. And since PSOs are people-centered enterprises, many PSO staffers worry that automation could make them expendable.
Professional services organizations that allow these or other negatives to prevent them from embracing automation are needlessly handicapping themselves. The fact is, PSOs are tailor made to capitalize on this technology.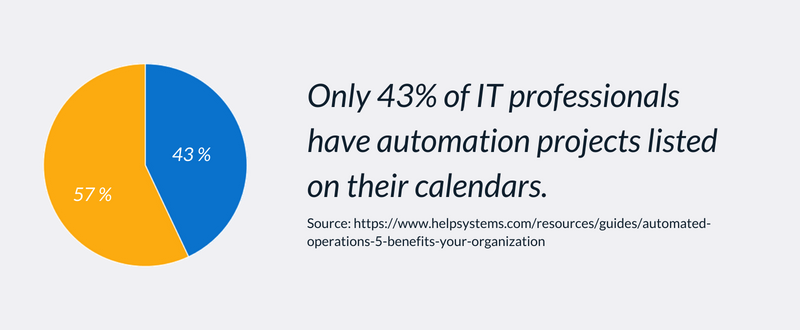 In a recent presentation, shipping giant United Parcel Service cited a study by the workforce productivity firm SPI Research. The study compared the performance of PSOs that use automation against those that don't. In every category – on-time project delivery, employee utilization, profits (EBITDA), revenue growth, and annual revenue per team member – automated firms outperformed the non-automated ones…sometimes by sizeable margins!
The Benefits of Project Accounting Automation
Cost reduction – Automation helps PSOs deliver their existing suite of services at lower cost or provide additional services at no additional cost.
Productivity – Automation enables PSOs to complete processes efficiently and in the proper order so more work can be done within the same amount of time.
Availability – Automation performs critical system operations such as backup automatically so business applications and the data they generate are fully protected and always available.
Reliability – Automation can repeat functions ranging from the mundane to the highly complex with 100-percent accuracy to eliminate operations errors.
Performance – Automation allows PSOs to exploit system operating capabilities to achieve maximum output without upgrading hardware or purchasing a new system.


Especially for the highly visible project-based accounting side of professional services, a special breed of software – PSA, or professional services automation software (a.k.a. "project accounting software") – can revolutionize the project accounting function to help PSOs –
Develop comprehensive project plans.
Schedule projects with precision.
Efficiently manage project tasks and allocate resources.
Maintain quality control.
Effectively supervise project budgets and costs.
Improve team-client communication and collaboration.
Accurately track time for better project billing performance.


Many PSAs include administrative support (project invoicing, document management, etc.), business intelligence (BI) features, and other productivity tools that offer PSOs a number of ways to improve their services for greater client satisfaction – and greater profitability!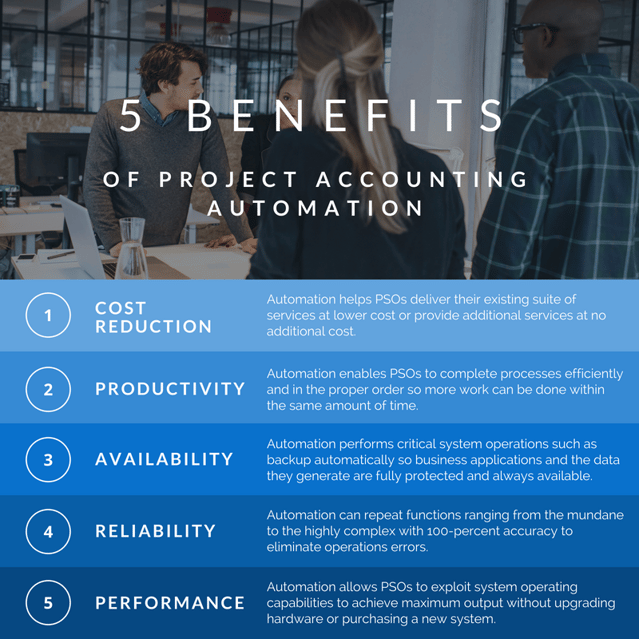 Determining Your Readiness for an Automated Solution
Some PSAs try a spreadsheet approach to automation. Which can limit success because of:
Lost billable hours due to incomplete, inaccurate or missing timesheets.
Client turnover because of missed project goals.
Lower profitability because of cash flow issues related to project billing and inaccurate project budgeting.


Switching to an automated project accounting system – especially a full-featured, integrated one – represents a change in how PSOs conduct project management. How can you know when it's time to automate? Hadley Jones (GetApp blog) offers these indicators, among others:
Your services offering has increased, but growing revenue is difficult.
You are moving from a local to a global market.
You have significantly increased your resource base.
Subcontractors are increasingly part of your offering.
Your employees are working further and further afield.
With bigger projects, mid-project profit visibility is becoming crucial.
You have more deadlines to manage and you're missing more.
You spend more time managing "stuff" than you do completing projects.
You no longer know if any one project is profitable at a given moment.


For some, it's a matter of numbers. In an industry benchmark report, SPI Research declared: "PSOs with over 10 employees should consider using PSA" (i.e., automated project accounting software).
Regardless of how you get there, once you've decided you're ready for an automated solution, the question now becomes: Which one do I choose?
What to Look for in an Automated System
According to Aurelio Locsin in "Advantages & Disadvantage of Office Automation," the time-tested advice "choose your software first" is still valid. "When implementing office automation, don't start by buying the equipment and software, then trying to fit it into your business," Locsin says. "Instead, decide on the tasks you want to automate, then look for the systems within your budget that can perform that work."
If you're not sure what to consider when selecting an automated system, the following will help guide you in the right direction.
Integrated Operations
Project-based accounting involves many different operations: planning and scheduling, budget preparation, task management, resource allocation, and progress tracking and reporting – as well as others. A good automated system will provide the capabilities your PSO needs for the way you plan, execute, and track projects so that no additional software or manual operations are necessary for effective project accounting.
Managing projects is a dynamic process, and success is often based on the timeliness of the information at hand. A good system will include in-depth, real-time monitoring of each project's completion progress and financial activity so you can identify projects that are falling behind schedule or going over budget. At the same time, it will support high visibility into the status of all projects, helping you better balance project resources across your organization to complete more projects on time and on budget.
Project accounting efficiency depends on having the right resource at the right place at the right time – and frequently on short notice. This, in turn, depends on how quickly you can make resource allocations happen. A good automated project accounting system will permit you to set up and maintain detailed project resource records, including usage histories, so you can determine the best resources for the job – and get them into the field fast!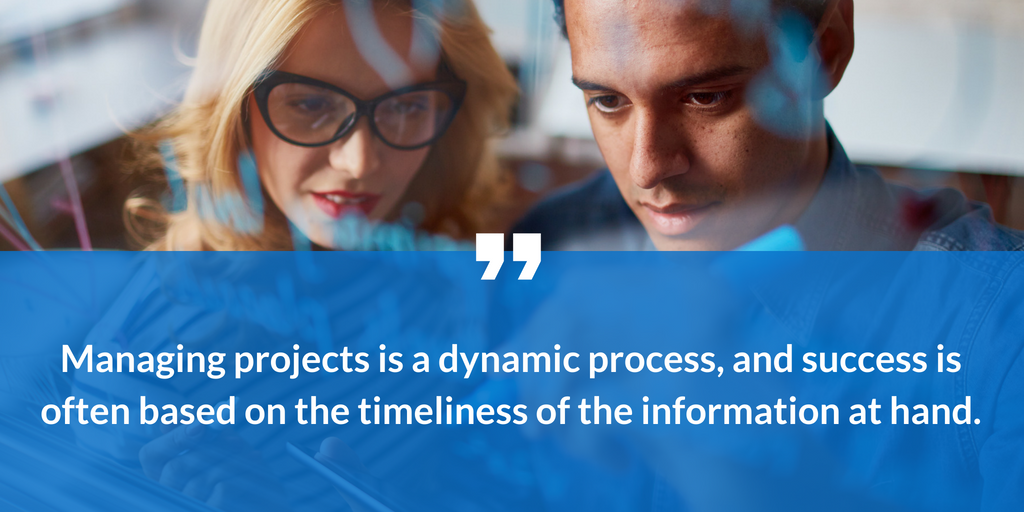 Another feature of a well-integrated system is the extent of its project tracking and reporting tools. Besides standard project reports listing labor hours, project-related expenses, milestones, and billable amounts, a good system will include various business intelligence (BI) consoles and dashboards. These tools will allow you to perform "self-service" analytics for reviewing projects and their KPIs (key performance indictors) from various angles, such as by project, by project transaction, by project task, and by resource.
Comprehensive Business Management Capabilities
A lot of automated project systems are on the market today. A lot of accounting software packages are out there, too. But many PSOs need to improve the speed and accuracy of both their project and financial management operations – often at the same time. If this sounds like your firm – or you think it someday might – your best solution is to implement an automated system that complements its project tools with a full-fledged financial management suite. Yes…such systems do exist!
An automated project accounting system that is also geared up for financial management will offer the financial applications essential for effective business administration: General Ledger, Accounts Payable, Accounts Receivable, and Cash Management. The capabilities of these resources will be equivalent to those found in dedicated accounting software systems:
Unlimited accounts, transactions, customers, vendors, statement cycles, aging categories, etc.
Real-time data access, based on the user's level of authorization
Budgeting and statistical entry
Recurring transactions, allocations-distributions, and reversing transactions
Custom account structures, customer-vendor classes, statement cycles, aging categories, etc.
Paper or electronic checks
Manual check and payment entry
Support for such functions as 1099 reporting and automatic finance charge assessment


A project and financial accounting system will include a range of standard financial reports: GL Trial Balance, Balance Sheet, Income Statement, Customer-Vendor Statements, Customer-Vendor Trial Balances, Aging Reports, Cash Requirements, Anticipated Cash Receipts, etc. It will also be equipped with tools similar to the consoles and dashboards found on the project side. These will enable you to drill into financial data (GL transactions, client records, vendor histories, etc.) to prepare one-off reports for viewing or export.
Finally, the system will provide tight integration between the project and financial management functions. At the executive level, this will improve the visibility of the entire organization. For the day-to-day, it will help increase operating efficiency and accuracy to eliminate such time wasters as double entry of data in both project and financial accounting.
High-Performance Project Billing
Internalizing the project billing function is among the top initiatives of PSOs trying to streamline operations. They assume bringing billing in-house will reduce invoice prep costs and increase control over the process. The hoped-for results are more efficient billing and faster, hassle-free client payments.
This kind of performance is possible – but only with the right tools. If better invoicing is your ambition, any automated project accounting system worth considering will include powerful project billing capabilities to help you make this happen.
Knowing what to bill is always a hurdle. A good system will provide several avenues for tracking project transactions (on timesheets, expense reports, subcontractor invoices, etc.) – even before they are approved. That way, billable amounts can be ready to go when it's time to create invoices. The system will also let you preview and change invoices to ensure their accuracy before you send them.
No two service projects are exactly alike – and no two project invoices are ever just alike, either. A good system will give you flexibility to prepare invoices according to each client's specifications. It will supply a variety of standard invoice formats (including AIA), allow billing for labor and material costs on the same invoice, enable you to control the level of invoice transaction detail, and permit deselecting individual charges to support cost write-offs.
A truly billing-focused system will also offer such industrial-strength features as user-defined billing cycles; the ability to reverse invoices (for correction and reissue); and the ability to review revenue when invoices are at any stage of production: pending, submitted, or approved.
Other Must-Haves for an Automated System
Strong project accounting, financial management, and project billing capabilities are the essentials of a serious automated project accounting software. A system that's really well-rounded will also offer –
Project Budget Tracking – Measuring actual labor and material costs against a budget is still the surest way of evaluating the financial success of any project. A good system will include features that let you set up the budgets needed for accurate project tracking and control so you can finish projects on budget.
Scalability – No matter how well it performs, if a system can't be expanded to support the growth of your PSO, its value will be limited. A good system will be scalable: it will allow you to add users with minimal fuss and expense, plus it will accommodate new users at minimal investment in new resources.
On-the-Go Project Support – Project-based accounting doesn't happen just at the office. A good system will support mobile project management so team members in the field can enter time, report expenses, and complete other tasks (e.g., update a to-do list or set a meeting agenda) from anywhere, using their mobile devices.


Project Accounting and the Coming Automation Wave
In the article "A Strategist's Guide to Industry 4.0," the authors describe a coming fourth industrial revolution – Industry 4.0 – where "major innovations in digital technology" (robotics, AI, data capture and analytics, and others) converge to transform completely the way industries operate. Mass customizations (products made in "batches of one" as cheaply as mass-produced items), equipment that tracks and reports data about its users to help manufacturers better serve customers, and appliances built to individual buyer specifications from orders placed at kiosks are among the many expected innovations of this movement.
Sound too futuristic? A 2015 PwC survey of 2,000-plus companies from 26 countries revealed one-third had already reached high levels of integration and digitization – and 72 percent planned to be there by 2020. The future is coming – and coming fast!
Three facts relative to project accounting automation and PSOs emerge from the Industry 4.0 discussion:
First, automation in its classic sense is, and will continue to be, a foundation block of Industry 4.0. In fact, automation will likely only grow in its importance.
Second, even though Industry 4.0 is a digital revolution, companies active in the movement will still need the resources in human capital that only PSOs can deliver. But PSOs will have to be able to provide Industry 4.0 clients with the data they need in the format and within timeframes they require. That means better interconnection, communication, and collaboration between client and PSO. And that means automation.
Third, PSOs that resist automation, especially in the project area, are making a grave mistake now – and a potentially fatal one later, as Industry 4.0 gains strength.


The basic takeaway? Ajay Arora perhaps says it best, "Automation has been in the works for over 200 years, and it's not going away anytime soon."
In the face of (1) the current competitive landscape and (2) the wave of digitally based automation Industry 4.0 is spawning, smart PSOs recognize the many current and future advantages that automating offers and is taking steps today to ensure automation is a core competency of their project operations.
If this doesn't yet describe your professional services firm, your time for action is now!
Great Software Supports Effective Professional Services Automation
Beyond Software is a publisher of powerful, easy-to-use professional services automation software, designed specifically for project centric businesses. Beyond has deep expertise in the project market space, particularly with firms in the professional services industries. We use the latest tools, technologies and platform to develop high-quality web based software that facilitates your organization's ability to manage and execute around your projects, making your company more profitable by increasing visibility into projects, creating accountability within the projects, and improving cash flow through faster and more accurate invoicing and expense management.
For additional information on Beyond Software please contact:
Nicole Holliday
nholliday@beyondsoftware.com
866-510-7839