Multiple project types managing multiple contract types:
Some businesses offer a single type of contract so each project is set up identical to the ones before it. Other businesses manage several different types of contracts; Fixed Bid, Time and Expense, Time and Expense – Not to Exceed, and Fixed Bid Plus Expenses, to mention a few. Project accounting software needs to allow projects to be set up individually, as well as, leverage the setup of previously defined projects when projects are similar. This allows your team members to focus on delivering the service knowing the system is set up to make project management efficient.
When it is common for projects to be set up like a previous project, the ability to replicate the setup of a previous project saves the Project Manager time, which eliminates the need to pass on the system maintenance time to your customer. Your team members can spend their time and energy where they can make a difference – helping your customer by spending time serving them.

How does Beyond Software make it easy to manage multiple project and contract types?
With Beyond, an unlimited number of contract types can be defined to allow you to quickly sort/filter on lookups and reports enabling easy access to the different types of projects being managed. Contract Types are related to Revenue Recognition Methods including Fixed Price, Fixed Price plus Expenses, Time and Expenses, Time or Expenses to a Maximum allowing you to manage what and when revenue is recognized.
Each project is assigned one contract type that determines how and what revenue generated from the project will be recognized. Use Contract Types to control certain Billing and Revenue Recognition behaviors for projects that are associated with the Contract Types. Contract Types typically mirror Revenue Recognition Methods. In some cases, you may want to have multiple posting patterns for a particular Revenue Recognition Method. In this case, they can assign multiple Contract Types to each Revenue Recognition Method.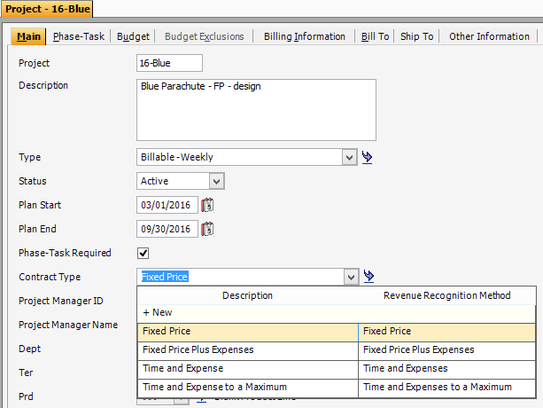 Beyond Software makes it easy to add different contract types to a project.
Want to learn more about Beyond Software's project functionality?